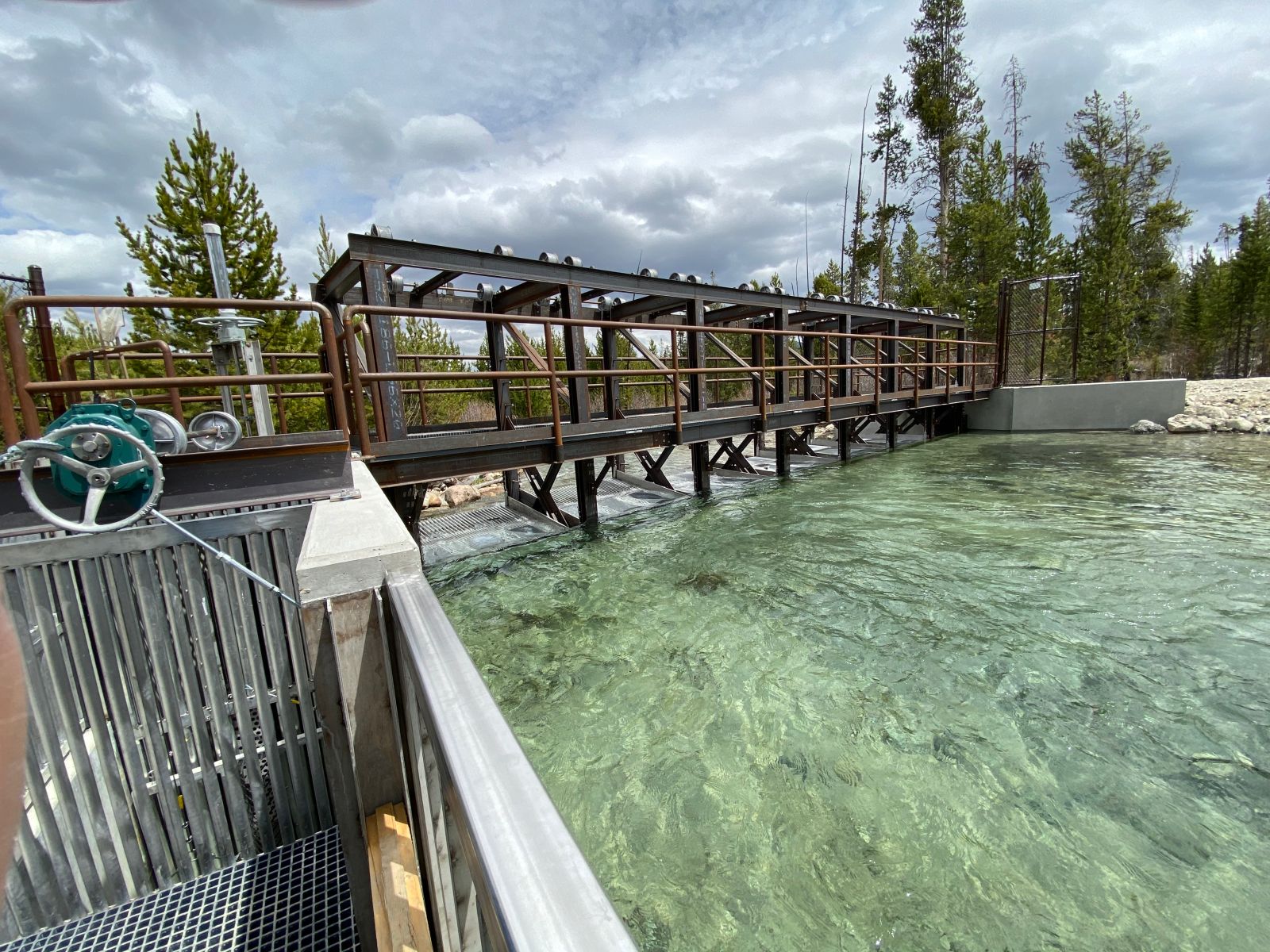 Fish Weir Photo – Jason Hill, HDR
The Shoshone Bannock Tribes recently completed construction of a fish weir on the outlet stream of Pettit Lake in the Stanley Basin. This site will better monitor and help fish biologists gather specific data in an effort to restore sockeye salmon runs, by tagging and tracking out-migrating juvenile sockeye salmon from Pettit Lake as well as counting, trapping and processing returning adult sockeyes. Despite poor conditions for migrating salmon in recent years, Pettit Lake saw its first salmon return to the lake in decades.
Pettit Lake, Blaine County, Idaho
On Saturday, August 28th, the Shoshone Bannock Tribes, Idaho Rivers United, and the Sawtooth Interpretive & Historical Association will host a full day of events!
The schedule for the day:
10:30 a.m. - Pettit Lake Weir Tour - Meet at weir location, approximately 1 mile from the Pettit Lake campground, off of Highway 75. The Shoshone-Bannock Tribe will lead the group through the engineering of the weir as well as discuss the technology used to monitor salmon activity. Representatives from IRU may also be at the location to further discuss returning sockeye activity. Tour will last approximately 1 hour.

We highly encouraged carpooling from the Pettit Lake site to the Stanley Museum, as parking may be tight at the museum!

Redd Tour Opportunities - Meet a Tour Guide at the Stanley Museum and drive to a location on the Salmon River along Highway 75 to view any returning salmon (or catch a ride on a bus from the Stanley Museum) to view and learn about salmon redds (aka nests) at 11:00 a.m. and 2:00 p.m.
12:00 p.m. - Idaho Energy and Salmon Concept Presentation by Congressman Mike Simpson - Stanley Museum
1:00 p.m. - Shoshone-Bannock Tribes Sockeye Recovery Program Presentation with Kurt Tardy, Snake River Sockeye Manager, for the Shoshone-Bannock Tribes. Also enjoy vendor booths and educational activities presented by various organizations at the Stanley Museum.
3-4:30 PM: Music by Muzzie Braun
City Club members- once you register for this event, you may want to secure lodging in Stanley or the Ketchum areas, as well as check for available camp sites in the area through https://www.recreation.gov/. All events and activities are FREE, but Donations for Idaho Rivers United and the Sawtooth Interpretive & Historical Association are appreciated. There will be food and beverages available for purchase at the Stanely Museum as well.
---